Do you question organized religion?
Have you wondered if one of these concepts might apply to you: Humanist, Freethinker, Atheist, Agnostic, Rationalist, or Skeptic?
Are you seeking a social home group that is not based on religion?
If so, then you may find like-minded people in HFCF – Humanists and Freethinkers of Cape Fear.
The Humanists and Freethinkers of Cape Fear is a chapter of the American Humanist Association. HFCF was established in Wilmington, North Carolina, in 2003, with the goal to lead and promote a humanistic and freethinking life stance with ideals based on ethics, freedom, rationalism, and global concerns.
We welcome new members of all ages, origins, ethnicities, gender identity. We welcome people interested in social justice, secularism, separation of church and state, environmentalism, peace, and personal liberty. HFCF sponsors meetings with nationally renowned and local speakers, social events, community action activities, discussion groups, and partnerships with like-minded organizations throughout Southeastern North Carolina.
Becoming a dues-paying member of HFCF provides the additional benefit of access to member-only events, an e-newsletter, and helps to support the operating costs of the organization. As a 501(c)3 non-profit organization, your dues are tax-deductible to the extent provided by the Internal Revenue Service.
If you would like to meet members of HFCF, we encourage you to explore our social events or community action initiatives, via our Meetup page. (Meetup is a free-to-use social media platform that features a multitude of interest groups; registration is required.)
Building Community and Friendships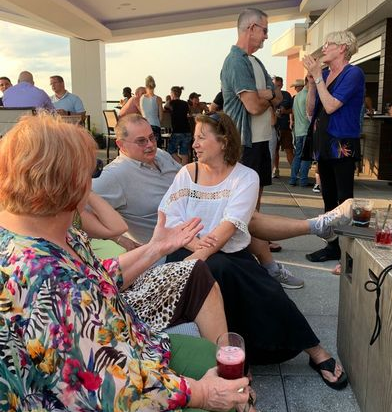 Information about our General Membership Meetings, social events, and community activities is available through the HFCF Meetup group, local event calendars, and the HFCF Facebook page.
We sponsor fun activities for both adults and families, including breakfasts, Happy Hours and dinners for socializing, discussion groups, and kid-friendly group excursions. We are open to additional suggestions for events where our members can build community and friendship.
We also try to have a strong presence at local festivals and other community events. We think that it is important to let others know there is a strong secular (Atheist, Humanist, etc.) community that welcomes inquiries and new members. In the past, HFCF has participated in the Azalea Festival, Earth Day Festival, Pride Block Party, Martin Luther King Day Parade, Black Men Running 5k, and a variety of other events. These opportunities enable us to socialize and give back to the community, providing many of us a strong sense of purpose and belonging.
---
Helping Local Causes and National Initiatives
You don't have to be a member of a church or religious group to help others.
The Humanists and Freethinkers of Cape Fear is also well represented in other membership and non-profit organizations in the Cape Fear area: we are active members of the community.
An important part of what we do is to support local, national and global initiatives to make this life and this world better for all. The Social Action Committee (SAC) of HFCF plans and coordinates the secular activism and community volunteerism of HFCF.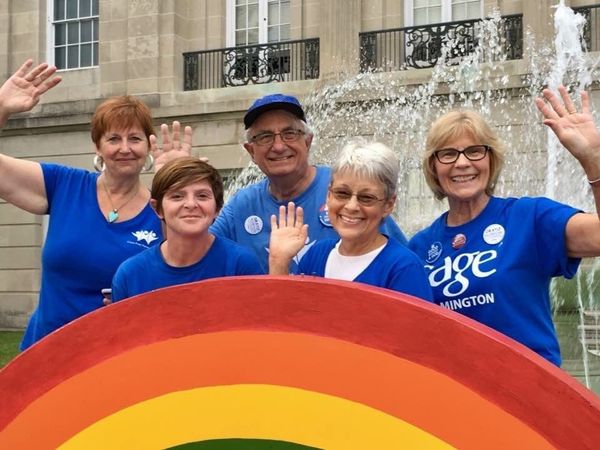 HFCF has pledged financial and volunteer support of Mother Hubbard's Cupboard, a local non-profit, non-religious organization which supplies food and support to those in need without regard for race or religion. We support many groups that strive for equality and reason, the continuing separation of church and state and the fight for truth and fairness in all areas of society. We are also strongly interested in environmental issues. In the past, HFCF has tended the James Avery Community Garden, supported the March for Science, volunteered at the NHC Diaper Bank, collected donations to assist unsheltered individuals, and many other community-minded activities.
We are always open to suggestions about how we can make a difference in our community.
---
Fighting for the Rights of Freethinkers
Members of HFCF think that any person can believe what she or he wishes. We do not agree that our lives and minds should be governed by the religious beliefs of others. HFCF is the leading voice for Humanism, Freethought, Atheism and Secularism in this part of North Carolina. Our group aims to provide a strong, positive, collective presence that can respond to the negative pressures and often outdated attitudes put forward by some in the religious community.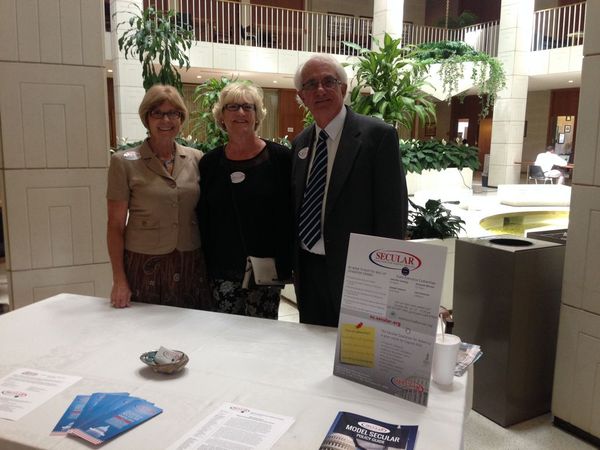 ---
Many have come to our group to be free of dogmatic and repressive religious communities that deny science, devalue the individual, deny the rights of women, demonize sexuality and attack education and rational thinking.
A key role of HFCF is to provide a support network and social community for Freethinkers, who may sometimes feel alone in a region with multiple organized religions. We invite you to be a part of this community, to share your ideas, your voice and your skills to make the Cape Fear region a happier, more rational and more positive place for everyone.